Tibor Cervanak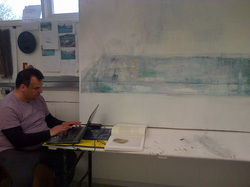 TIbor started painting at the age of nine, inspired after a visit to the studio of Mikolas Rutkovski.

Born in Hranice, in the Czech Republic in 1977, Tibor's talent was recognised at an early age and he held his first solo exhibition at the age of 14.

He moved to Belfast in 2004 where he exhibited regularly. He has exhibited his work in New York, Vienna, Stockholm, Helsinki, Oslo, Budapest, Paris, Venice and London, and has been invited on a number of occasions to exhibit with the Royal Ulster Academy. He is now based in Cardiff.


---