Sarah Targett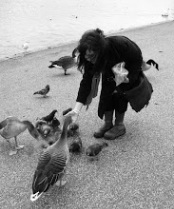 Sarah studied Fine Art, specialising in Printmaking at Falmouth School of Arts and now lives in Bath. After many years working in the voluntary sector she was dissatisfied with the lack of time she was spending making prints.

Screen printing at home on an old kitchen table for a couple of years led to the decision at the end of 2012 to leave her paid employment to have more time making work. She now works freelance, part time as the Technician at Marshfield Screen Print, a small studio just outside of Bath where she also makes her prints.

She has exhibited regularly at the Bath Society of Artists Annual exhibition and was elected as a member in 2013.


---