Caroline Mockford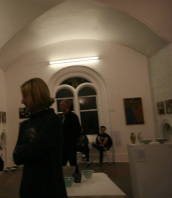 Caroline studied Fine Art at Bristol Polytechnic and Norwich school of Art, where her work was singled out for special praise by the artist and critic, Patrick Heron.

The mother of three sons, she also taught for several years and is inspired by the simplicity and direct approach of children's artwork.

Since 1996 she has worked as an illustrator, and has published more than a dozen children's books. More recently she has worked as an illustrator on children's television programmes.



She has continued to practise as a fine artist, using still life, landscape and figurative subjec matter as a vehicle through which to explore relationships of colour, shape and texture.

She currently lives and works in Gloucestershire.

---