Beryl Robinson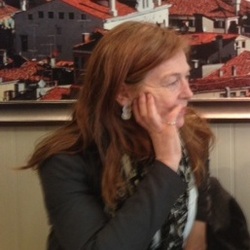 Beryl studied Fine Art at Reading University and postgraduate Fine Art at Goldsmiths College, London.

During the 1980s she had a variety of solo exhibitions in Arts Council Venues and artist residencies in the Kunstlerhaus in Salzburg, the Chelyuskinskaya Museum in Moscow and the Belles Artes Europeu in Barcelona.

She was course leader of the MA in Fine Art in Barcelona. Visiting lectureships include Boston University, St. Martin's London, Camberwell School of Art and Kingston College of Art and Design where she was the course leader of Contemporary Art Practice.


Her work is in commercial and private collections around the world. She follows the tradition of English abstract painting, testing our perception and creating a nuanced illumination of objects as they are disembodied and reconstituted.

Recent exhibitions include Store Street Gallery London, No 1 Alfred Place Private Members' Club London, Artists At Home, O'Neil's Gallery Bath, Tintype Gallery London, Diesel House Studios, Kew Steam Museum and Somerset House.

She works in studios in London and in Truinas, Drome in the South of France.



---